Edinburgh EIE'10 preliminaries
Here's the first part of the report from the Engage Invest Exploit event in Edinburgh - the pre meeting meetings on Tuesday 11 May 2010.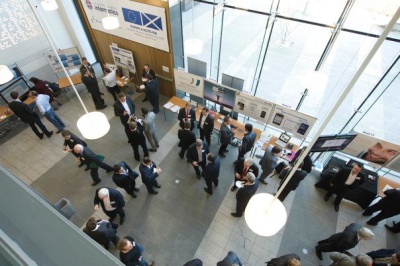 The Informatics Forum (picture Andrew Mitchell)
Enjoyed meeting Ann Budge, one of my fellow panelists; she is now making angel investments, having retired in 2008 from Sopra, which bought her computer services company in 2005.
Immediately after that Alex van Someren talked to the Edinburgh Entrepreneurship Club about his initial approach as a teenager to Acorn, the formation of ANT, and the highlights of getting intial funding for his encryption company, nCipher. Several times in the evolution of his business life he'd faced the decision about whether to take what was on offer at the time, or hold out for something less certain later. Each time he's taken the immediate offer - going directly from high school to work for Acorn rather than going to college at Cambridge; accepting the $1m funding offer even though he gave up a controlling share of nCipher - and it has paid off.
Alex and I were dispatched in a taxi across the city to the dinner organized by Mark Littlewood of the Business Leaders Network, being held in the classic Georgian building in Queen St which is one of the premises of the Scotch Malt Whisky Society. Their attic dining room, up three flights of spiral stairs, has a fine view across the Forth estuary to the Fife hills - there was enough light left to admire it even on a damp grey evening. Dr David Milne, co-founder of Wolfson Microelectronics, was reviewing the investment landscape in Scotland as we arrived. Other participants were from Silicon Valley Bank, Seraphim Capital, Par Equity, Google, Tech Crunch, and the sponsors, Informatics Ventures. There was an instructional whisky tasting, fine food, and a good deal of business networking.
References
Edinburgh Entrepreneur Club
Investor list
Cunning Systems evaluates product and service ideas in computing and communications. If you would like to discuss an idea, contact us at info@cunningsystems.com Follow me on twitter at @annejohn and @vcwatch