Underwear - Globalization in action
Last week I bought new underclothes. Being from the UK, Marks & Spencer are my strongly preferred source for bras and underpants - they have a predictable quality versus price trade off, consistent sizing, and reasonable colors for their clothes. Shopping from their web site is significantly preferable to visiting an actual store. The order and delivery details epitomize globalization in the supply chain.
Countries of origin - Bangladesh, China and Cambodia.
Order placed Monday morning Pacific time
Order processed Tuesday UK time
Order dispatched Wednesday from Birmingham, to the East Midlands airport sorting facility
Order arrived at Cincinnati, then San Francisco, then delivered to the Los Altos, California house on Thursday just after noon.
For 10 pairs of underpants, 4 bras, and a pair of leggings, the total charge including taxes and delivery was $86, paid in dollars.
The items arrived inside a Marks & Spencer plastic bag, in their retail packaging. DHL sent a message to say "there's a delivery on the way. It may require a signature. If you aren't going to be at home to take the delivery, feel free to leave a note on the door to say that you don't care if we leave it on the doorstep." This saves lots of trouble and expense both for them and their customer.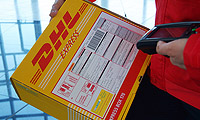 References
Marks and Spencer http://www.marksandspencer.com/
Economic globalization https://en.wikipedia.org/wiki/Economic_globalization