The Zeppelin Eureka
A summer holiday season post (on 4 July 2010)
Airship Ventures have their base at NASA AMES, which is about 5 miles from where we live. Given the offer of a balloon trip as a birthday present, I substituted a Zeppelin trip. The current plan is to go on 11th July, a week from today.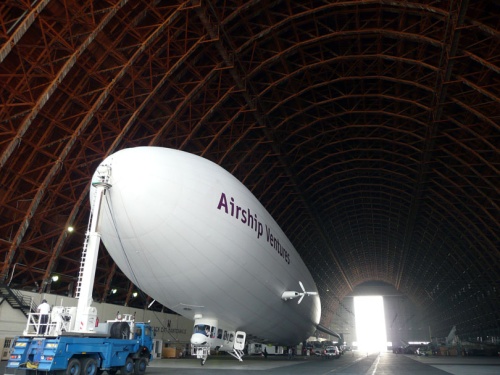 Photo Janet Beegle
Background information :
Manufactured in Friedrichshafen, Germany by ZLT Zeppelin Luftschifftechnik GmbH & Co KG
"Founded in 2007 in California, Airship Ventures, Inc., operates the only passenger airship operation in the United States, featuring the Zeppelin Eureka, the world's largest airship. The Zeppelin's spacious cabin comfortably accommodates one pilot, one flight attendant, and 12 passengers, with panoramic windows, an onboard restroom with window, a 180-degree rear observation window and "love seat" that wraps the entire aft of the cabin. Using helium for lift, and vectored thrust engines for flight, Zeppelin NTs have been flying in Germany and Japan since 1997.
Two lateral and one rear engine provide the flight control and propulsion for the airship. The three engines combine to produce a maximum speed of 78 miles per hour, with typical cruising speed of 35 to 40 mph. Because the engines are mounted far above the cabin the passengers experience low noise level. This position is also responsible for the high performance maneuvering capabilities."
In addition to the Moffett Field base, there are flights from Monterey, Los Angeles and San Diego. European flights start at Friedrichshafen, which is near to the southern border of Germany on Lake Constance (Bodensee).
References
Manufacturing company
Airship Ventures backgrounder
Picture Gallery
Calender for US West coast flights
Calender for German Flights
Shipping from Hamburg to Texas press release