Effectiveness of Incubators
NESTA is the National Endowment for Science, Technology and the Arts - an independent body with a mission to make the UK more innovative - it is funded by an endowment from the UK National Lottery. It makes investments, and also publishes research.
Yesterday's blog post was notes about a visit to PlugandPlay Tech Center - which is primarily a place for startups to rent office space on extremely flexible terms; it also offers shared space, access to advice, and other things which might help startups get going more quickly (or fail an idea more quickly). Either way, this usually saves time and money compared to doing it alone. PlugandPlay is one example of an incubator. Y combinator, of course, is another. NESTA doesn't mention either of these big examples in its recent publication, focusing instead on Cambridge, England, and on Sweden for examples of success. From the perspective of the Valley, it seems odd to ignore these big operations.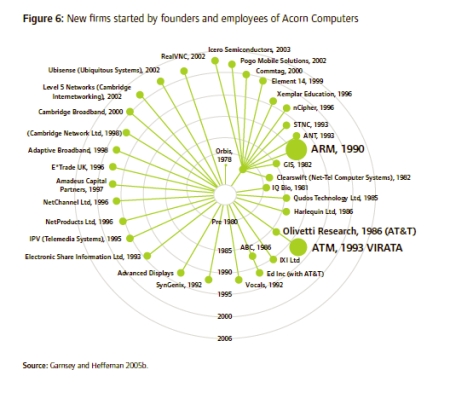 out of an Acorn ...
Nevertheless, here are some useful quotes from the Incubation for Growth paper.
"Absolute measures of incubation are impractical, but performance indicators are useful"
" Business models have changed over time. Since 2005 there has been a reported increase in the cost per job created each year in business incubation in Europe. Some incubators now offer equity finance, and some equity investors offer incubation, with an unclear distinction between both. The challenge for incubators and their funding bodies is to capture some of the value created for incubatees. Generating revenue from services when clients are resource constrained is often not possible without subsidies from public bodies. Corporate funded incubators typically require a strong strategic fit of incubatees with the corporation, which is not appropriate for all ventures. Incubators with mixed funding may encounter principal-agentproblems as they attempt to meet multiple objectives."
"Longer term, the challenge for incubators is to help develop a relatively smal