Big Data - 21 companies selected by SVB
Silicon Valley Bank put together an event reviewing companies with less than $5m in revenue, in the big data and analytics space. In-Q-Tel were the sponsor; the audience included senior people from Siemens, Intuit, HP, Autonomy (an HP company), Northrop Grumman, GE, Standard Chartered Bank, IBM, Splunk, Google, NEA, Hummer Winblad, USVP and Jafco Ventures.
After the introductions, the format was 3 sets of 7 companies, presenting for 7 minutes each. After each set there was a break, at which the audience was encouraged to find the presenters to ask questions. The quality of the presentations wasn't uniform, but it was at least as good as the IBM global smartcamp event I mentored earlier in the year - which says volumes about the pre event coaching which must have been applied by Gerald Brady (SVB) and his team.
Most worth attention: NuoDB for the 'elastic' promise; Kaggle for the game approach; Full Contact for people background; Cloudant for database virtualization.
Dave Feinleib's graphic sorts topics; most of these people could actually do most of the other things, but this does reflect their current postitioning.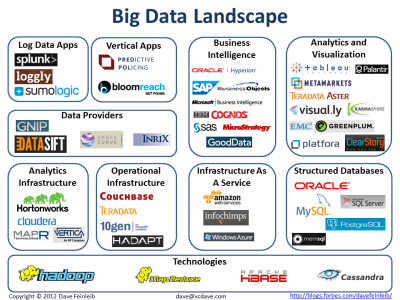 Notes on the companies
Sumo Logic Log management - think syslog for everything that emits status, in private or public cloud, with reporting and analytics front end.
$15M in Series B funding in Jan 2012 Mountain View, CA
Platfora Hadoop for non specialists in large enterprises - making big data useable without Map Reduce.
$7.2m Series A Oct 2011 San Mateo, CA
Placed Location analytics anchored on lat/long positions. Reminded me of Palmap (Shanghai).
$3.4m seed round April 2012 Seattle, WA
NuoDB Grand claims for a new database architecture - scalable,geo-distributed, elastic, SQL/ACID -compliant, shared nothing, asynchronous, peer-to-peer .. this is Jim Starkey's (Datatrieve, InterBase) latest vehicle for improving relational databases.
$10m venture round, April 2012 Cambridge, MA
Metamarkets Data science as a service -trend analysis, spotting anomalies in big data volumes, at speed. Their blog gives a better idea of what they do than their CEO did. http://metamarkets.com/blog/
$15m Series B April 2012 San Francisco, CA
MemSQL Gigaom's description http://gigaom.com/cloud/ex-facebookers-launch-memsql-to-make-your-databa...
Converts SQL to C++ and re-use for subsequent queries, lock-free, in memory to get sub millisecond response times.
$5.1m seed, June 2012 San Francisco, CA
Lucid Imagination Private or public cloud search - 24x7 support for open source Apache
Lucene/Solr search, analytics, big data
$16m Venture, October 2010 Redwood City, CA
Tempo DB Techstars Cloud alumni. Customized time series database as a service for sensor data.
$750K seed May 2012 Chicago, IL
Kaggle Host competitions for data scientists - make existing data available in public to find and qualify scientist, then in private to specific scentists. Competition shows stages of improvement in application of algorithms.
$11m series A Nov 2011 San Francisco, CA
Integrate Advertizing support, ad spend optimization
$11m March 2011 Scotsdale, AZ
InsightsOne Predictive analytics. Real time multichannel user offer matching.
$4.3m venture March 2012 Santa Clara, CA
Huddle Enterprise and government content collaboration platform - big wins in UK, just launching into US.
$24m May 2012 London and San Francisco, CA
Hadapt Add RDBMS to Hadoop nodes so existing SQL tools work. Adaptive analytics platform.
$9.5m series A Oct 2011 Cambridge, MA
Full Contact Impressive, and scary if they can do what they claim. Take partial information about an individual, clean it up and correlate by collecting what they've put out on the net over time. Social profiles, too.
$1.5m series A Denver, CO
Delphix Support developers where lots of copies of the same DB get used. Database virtualization. This is a real problem, and they cite real numbers for money saved and productivity improved.
$25m series C Palo Alto, CA
DataStax Enterprise services and platform using Apache Cassandra open source database.
$11m series B San Mateo, CA
Cloudant Low latency on small low power devices, by getting big data on or close to its consumers. Has 18 data centres worldwide. Data replication and sync using NoSQL database monthly service.
$2m venture round Dec 11 Boston, MA
Bottlenose Low cost real time analytics - see what's trending - process 3000 messages/second - browser frontend.
seed investment (no numbers given) Raising round in 2012
Birst Automating supply chain for low volume high value data. Easy to use business anayltics.
$26m May 2011 series D San Francisco, CA
Apigee API technology and services, for making data available and understanding how it is used.
$14.1m Jan 2010 Palo Alto, CA
Agilone Predictive marketing intelligence. "maximize customer lifetime value at the optimal marketing spend"
Sequoia Capital invested, no numbers given. Mountain View, CA
10gen Commercial support and development for open source MongoDB. Used as an Oracle replacement, gain scability, agility, productivity for developers.
$42m series E May 2012 New York, NY and Palo Alto, CA
Several people were interested in Techstars; TempoDB just emerged from the Techstars Cloud program, which I mentored. Links below for more background - there's another blog post to come on that topic, too.
References
Investment numbers and dates from Cruchbase www.crunchbase.com
The book about the companies http://www.svb.com/pdfs/ibook/ESG_Big_Data_Event_62012_eBook.pdf
Techstars http://www.techstars.com - see Techstars Cloud, and http://globalacceleratornetwork.com/
IBM global smartcamp final http://www.cunningsystems.com/2012/02/ibm-smartcamp-global-final-mentori...
Forbes graphic - Dave Feinleib http://www.forbes.com/sites/davefeinleib/2012/06/19/the-big-data-landscape/
Another broader chart of the landscape http://mattturck.com/2012/06/29/a-chart-of-the-big-data-ecosystem/
Cunning Systems evaluates product and service ideas in computing and communications. If you would like to discuss an idea, contact us at info@cunningsystems.com