Mentoring TechStars Cloud
Led by Jason Seats, with lots of help from Nicole Glaros, TechStars Cloud ran from January - April in San Antonio, Texas. Here's a first time mentor viewpoint.
The point of the Cloud variation on TechStars' usual model was to focus on infrastructure - companies building the underpinings of the ecosystem which supports consumer oriented apps, and companies building functionality for enterprises. It has the usual 13 week format. There was also an intent to bring startup companies at least temporarily to San Antonio to see if any of them wanted to stay put afterwards.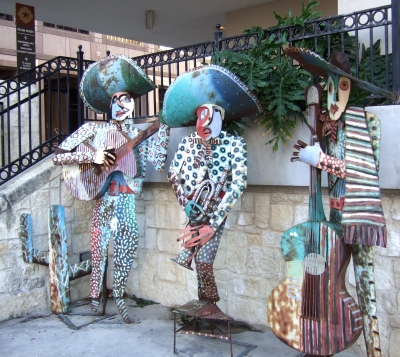 On the Riverwalk, where it meets E Pecan St. Techstars had office space in the Weston Centre opposite.
The sucessful applicants were companies building a mixture of tools for creating and manipulating APIs, for data analytics, for video editing, and for understanding your cloud spending. Cloudablity was the most advanced, having taken a seed round after its launch in June 2011 - some of the other groups had just formed companies in order to take initial $118,000 investment which is offerred to each succesful applicants.
In the second week of the accelerator, there's a sort of speed dating day, where mentors go through 30 - 45 minutes session with each of the companies whom they think are interesting and which have asked to see them. At the end of the 4th week companies pick which of the mentors they want to work with - mentors are expected to pick one company and focus on it. Cloudability picked me. I'd expected a team to form among the mentors, but mostly the companies dealt with one mentor at a time - they learned to pick and choose advice. Towards the end of the 13 weeks, more of the companies I'd met contacted me, so I ended up advising four of the eleven, mostly by email, with occasional conference calls. During the run up to and on the day of the final review I was in England, so missed going back to San Antonio to attend Demo Day in person. I did review the videos of the pitches: there was a huge improvement over the three months in both content and presentation style from all the companies.
At this point (July 2012) almost every company has additional finance in place, and a much better idea about their target market and prospective customers than they had in January. I learned a lot about how a good accelerator is run (this was the first TechStars Cloud, but it benefitted hugely from the about 15 programs which preceded it).
Now I'm mentoring at Alchemist, much closer to home in Menlo Park, and planning to mentor another Cloud next January.
References
Gigaom review of demo day http://gigaom.com/cloud/apis-and-data-dominate-techstars-cloud-demo-day/
TechStars for a Day introduction http://www.cunningsystems.com/2011/11/techstars-day-ts4ad
Outcomes and statistics http://www.techstars.com/companies/stats/
Alchemist accelerator http://www.alchemistaccelerator.com/
TechStars background and