Getting started in Silicon Valley
Several weeks back, I talked to a friend of a friend about getting started in the Valley. He has a software development company in Northen Italy, and was able to take a couple of months to stay in San Francisco to find out what it would take for him to move his company there. Here are some of the suggestions, generalized a little.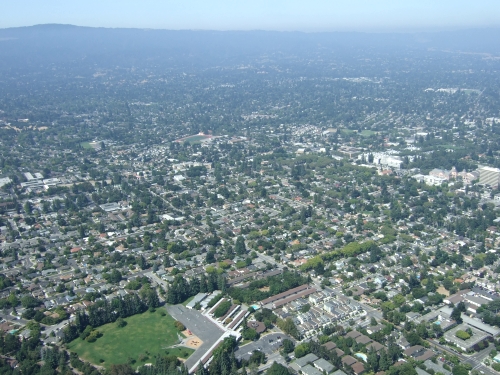 Mountain View taken from Airship Eureka (2010)
At least a couple of months before you arrive, find one or more contacts who are themselves well connected to startups and developers already in the Valley. In this case, the mutual contact was a family friend who moved from Italy 20 years ago. Ask them to make introductions for you so that you can exchange email ahead of time and set up meetings with some of them.
Look up the list of trade shows going on in Moscone Center - you don't have to sign up, but many thousands of people do, and they hang out in bars and restaurants in that area of town, so you can get a sense for what's going on in that business. If you are developing for Apple users, for example, there's WWDC; and a few days later there's a meetup for iOS developers.
If you can get into one of the accelerator programs, you get some money, but more importantly you get access to shared resources for most of the things that are essential, time consuming to understand, and not really your focus when building a company - accountancy, legal, sometimes office space,and mutual support from peers. See below for lists of accelerators - each of them describe their schedules (most often 13 weeks, several times a year) and competitive criteria for acceptance.
Read about Lean Startups - the google group for discussion is https://groups.google.com/forum/?fromgroups#!forum/lean-startup-circle
Look for blogs from Eric Ries, Steve Blank, and Sean Murphy
Ask for a frank opinion about the quality of your English. It doesn't need to be perfect, but Americans are bad, in general, at listening to non-native speakers - the better your English is, the more effective you can be. One thing which will help is if you can write a blog; aim to post every day, even if it's only a few sentences at a time. Your audience is people like you, who wish they could spend a summer in San Francisco learning how to get a company started here.
Your blog, your Twitter presence, and your LinkedIn page are important - get them organized ahead of time, so that the people to whom your contacts are introducing you will get a positive sense that you are doing interesting stuff from which they might learn (and so whether they will take time to drink coffee and share experiences).
Twitter people - here's a selection from the people I follow, with a little bit of explanation. Look at whom they follow, too, and pick some of them (use what they post and their profiles to guide your choices). Reply to posts if you have anything constructive to say - this builds your own publicly available profile.
@Venturehacks - Angel List founder
@dorkitude founder Keen.io They just completed Techstars Cloud and raised a seed round.
@stormental co-founder @cloudability Techstars Cloud
@rodolfor founder at @Storybricks
@kotikan - mobile app development agency in Edinburgh
@500 500 Startups (Dave McClure)
@springboardnews - accelerator program in London and Cambridge, England
@techstars - @davetisch, @nglaros
@timburks - runs iOS developers meetup in the Valley
@scobleizer - high volume, interviews interesting new startups (works for Rackspace)
@bfeld - founder Techstars, VC at Foundry
@avc - Fred Wilson, VC at Union Square
@skmurphy - see Lean Startups, above
@ycombinator - accelerator
@gezbrady - supports startups for Silicon Valley Bank
@borthwick - CEO Betaworks. Very interesting business investing in media properties including bit.ly
@sgblank - Steve Blank
@martenmickos - Finn moved to Silicon Valley
@msuster - blog Both sides of the table - VC at GRP Partners - read the blog too
References
iOS developers meetup http://www.meetup.com/sviphone/
Incubator locator page http://www.t3advisors.com/launch-space/map.php
Accelerators and Incubators - my posts with lists, EU as well as US
http://www.cunningsystems.com/2011/09/effectiveness-incubators