Whisky from EIE 11
There's a backlog of blog posts ..
During the week of EIE13, unfinished business from EIE11 resolved. As part of the 'thankyou for speaking' I'd been given a bottle of whisky; which created a dilemma - when I travel I don't check bags, and I was leaving Edinburgh to go back to California. Colin Adams was kind enough to say "We'll keep it for you"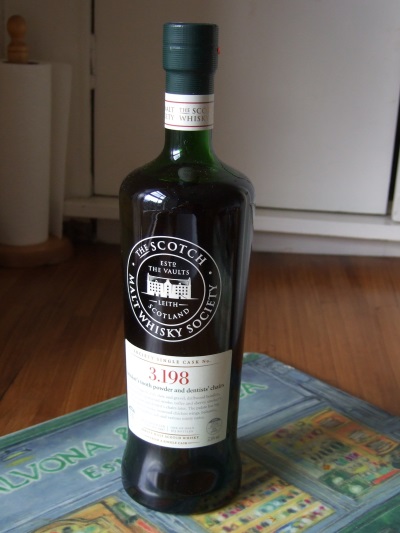 Accordingly, when I coincided with Colin going up in the elevator in the Appleton Tower, I reminded him about the neglected whisky. He was able to say "come over later in the week and we will find it for you". The bottle found a good home as a house warming present for my brother, I tasted the whisky, and Informatics Ventures kept its promise. All excellent things.
Scotch Malt Whisky society single cask 3.198
Smoker's tooth powder and dentists' chairs (sherry cask)
Nose suggests coal, slate and gravel, driftwood bonfires, barbecued ribs, perfumed smoke, toffee and sherry ; smoker's tooth powder and dentist's chairs later. The palate has big toffee, decent smoke, honeyed chicken wings, balsamic, hot leather, ash and various minty notes.
References
http://www.cunningsystems.com/2013/05/edinburgh-early-may-2013
http://www.cunningsystems.com/2011/05/notes-eie11